For those who use the Simple Download Monitor and Manager Plugin to track who is downloading their digital content, a feature of this plugin allows you to view your statistics visually by country. This feature uses Google Maps to present you with a map that accurately represents where your users are downloading the files from.
How Can I Enable the Country Chart Statistics?
To enable this feature you will need to have your Google Maps API key handy. If you do not already have a Google Maps API Key or you do not know where to locate your API Key, please click here to find out how.
Ensure you have the 'Simple Download Monitor and Manager Plugin' installed and activated on your WordPress Website.
Click on 'Downloads' and then on 'Settings'.
Click on the 'Advanced Settings' tab.
Scroll down within the advanced settings tab and locate the 'Google Maps API Key' section.
Copy and Paste your 'Google Maps API Key' into the appropriate field.
Click the 'Save Changes' button.
You have now entered your Google Maps API Key and you should now be able to view your download country chart (see below for location).

Where Can I Find and View my Downloads by Country Chart?
To now view your country chart which will outline where your users are downloading your digital content from you will need to:
Click on the 'Downloads' menu and then on 'Stats'.
Click on the 'Downloads by Country' tab from within the Stats menu.
You will see your map that outlines where your digital content has been download from. This allows the admin to visually see where the majority of their users reside.
You can alter the 'Start' and 'End' dates, to see only those who have downloaded within those set periods.
Your map will look similar to the map below if you have had a number of items downloaded by users across the globe. Hovering over a country on the map will allow you to see the number of downloads from users within that region in the respective period you have chosen.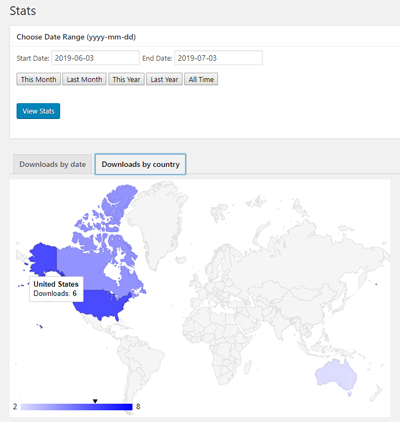 Remember, the downloads will only be represented on the map if the user's country IP can be recorded. If for some reason the IP address of the user is hidden, you may find your map empty like the example shown below.