This addon allows you to create hidden download buttons for your downloadable items so the actual location of the file is never revealed.
What this Addon Does
Normally, the SDM plugin's standard shortcode creates a download link like the following:
http://www.example.com/?smd_process_download=1&download_id=4201

That is fine for the standard free downloadable items. However, if you want to offer some hidden downloads to your members for example, you may not want a download link like the above one to be passed around. Also, the true location of the actual downloadable file is not hidden.
This addon gives you a shortcode that you can use to create a download button that keeps the true location of the downloadable file completely hidden. Also, the user is forced to interact with the button that this addon creates to be able to download the item in question.
Installing the Hidden Downloads Addon
You can install this addon the same way you install any WordPress plugin:
Go to the Add New plugins screen in your WordPress admin area
Click the upload tab
Browse for the addon file (sdm-hidden-downloads.zip)
Click Install Now and then activate the plugin
Addon Usage Instructions
Use the following shortcode where you want to create the download now button for an item.
[sdm_hidden_download id="4101"]

4101 is the ID of the download item in this example.
You can also use the fancy style template with this addon. The following shortcode will create the hidden download now button using style 2
[sdm_hidden_download id="4101" fancy="2"]

The above shortcode will create something like the following: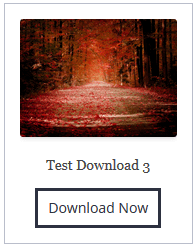 When the download now button is clicked, it will allow the visitor to download the item (without revealing the actual digital file's location).
Download Count Monitoring
The download count monitoring will work as usual for the download buttons created using this addon. So you will see the download activity in the Logs and Stats menus of the plugin.
Get the Hidden Downloads Addon