Using the Download Monitor & Manager plugin and another membership plugin (of your choosing) you can protect your downloads from non-logged in users. When a user is logged in they will have access to download your items as they please. Someone who tries to download an item without logging in first will receive the following message:

Using this feature of the Download Manager Plugin allows you to monitor who is downloading your files and also keep them for members only.
How to Offer Downloads to Logged-in Users Only
Ensure you have the Download Manager Plugin installed and activated on your site.
Click on Settings under the Downloads menu.
Mark the checkbox next to Only Allow Logged-in Users to Download.
Click the Save Changes button.
Now your users must be logged in to be able to download your files.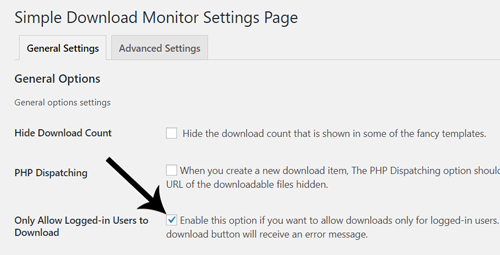 Tracking of Member Download
When a member is logged in and proceeds to download an item, their membership username is recorded. These records can be found by clicking on Logs menu under Downloads.
Example: Viewing the Member who Download an Item
Under the Title column is where you can see which item was download and under the Username column is where you can see who downloaded it. This way you can track what content your members are downloading.