Using the Simple Download Monitor Plugin and the WP eMember plugin, site admins can view if a logged-in member downloads an item.
Using this tool enables one to see trends among their members and in turn produce downloadable content that the members will like.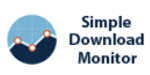 How to Track Member Downloads
Configuration
Ensure you have the Simple Download Monitor Plugin and the WP eMember Plugin installed and activated on your WordPress site.
Advertise the downloads you have available on your websites main menu or direct your members to the downloads page after they log in.
If a member chooses to download an item after they have logged in, the Download Monitor Plugin records their username internally.
Viewing Which Member has Downloaded an Item
Click on the Downloads menu and then on Logs.
Located the Username column.
The username of logged in members who download an item will be listed here. If a member is not logged into the site, their username will be recorded as 'Not Logged In'.
Visual Examples
Step 1) The following member of a site logs in. They then see an Audio Baking Recipe available for download.

Step 2) The member downloads the item. Their membership username is recorded in the Download Log.

Step 3) Site admin can now view what content their members are downloading.